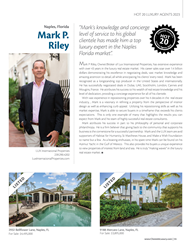 Naples, Fla. Luxury Real Estate Broker Mark P. Riley Makes Clientele Luxury's 2023 Hot 20 Luxury Agents List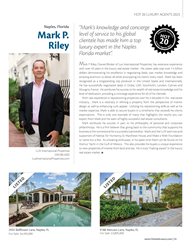 Riley's distinction stands on 43 years of experience in luxury real estate, including career sales of over $1.4 billion.

NAPLES, Fla. (PRWEB)
April 20, 2023
Luxury real estate is a prominent yet highly competitive market both in terms of buying and selling. Clientele Luxury's annual Hot 20 Luxury Agents List acknowledges agents and professionals who have reached the top of their respective regions' markets. For 2023, Mark P. Riley, the owner and broker of Lux International Properties, made the roundup and fortified his status as someone to watch in Florida's luxury real estate market. Recently he had a record sale of 7 Million in the Residences at Mercato located in Naples.
Riley's distinction stands on 43 years of experience in luxury real estate, including career sales of over $1.4 billion. Riley prides his success on dedication and a versatile skill set, including negotiating deals, attention to detail, impeccable customer service, expansive market knowledge, and repositioning skills.
His prowess extends beyond the Naples area to deals in Dubai, Stockholm, London, Cannes, and Mougins, France. He enhances this perspective with his interest in yachting, which, beyond enjoyment, allows him to explore coastal real estate from another angle. In 2022, Clientele Luxury magazine reached out to Riley for his professional insights into the Naples, Florida, luxury real estate market. He described the community situated on the Gulf of Mexico as a fusion of European charm and paradise with lower state income taxes and ideal for both investments and for those interested in working from home. His outlook reflects Naples' recent transformation from a vacation market of second or third homes into a residential community attracting families.
Outside of real estate, Riley believes in giving back to his community. He and Lux International Properties engage in multiple philanthropic ventures, including supporting Habitat for Humanity, St. Matthews House, Youth Haven and the Make a Wish Foundation, among other organizations.
About Clientele Luxury
Clientele Luxury magazine made its debut in Fall 2013, highlighting travel destinations, style, and ultra- luxury properties and real estate agents from across the United States. For the past decade, Editor-in-Chief Erin Green and Senior Editor Irene Test have captured their audience with noteworthy content geared toward the affluent, and many of the original featured agents continue to partner with the now- established magazine to access and gain visibility among a high net-worth target audience. At the same time, the magazine's spreads present the homes through detailed imagery and pair them with engaging content geared toward buyers considering ultra-luxury properties. Along with the Global magazine, Clientele Luxury publishes its Top 10 Homes in the USA edition seasonally, geared toward $200,000,000 or higher net worth individuals, and the biannual BESPOKE, focusing on luxury properties and travel destinations. Considering the full luxury experience of travel and exploration, the magazine continues to carve out a niche by showcasing interior designers, creative individuals, and some of the world's most sought-after travel destinations.
@clienteleluxury
Share article on social media or email: